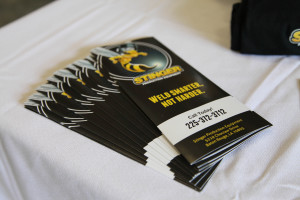 Our goal is to create production and support equipment that makes our customers' jobs easier. Our products raise the standard of semi-automation equipment by increasing production and helps to take some of the stress out of our clients' daily operations. We have years of experience in the welding industry, and we know what's what in the world of welding. As a distributor, you can be confident that you're selling a high quality product backed by knowledgeable, invested customer service.
Don't wait on a part from China, get quality here at home.
With Stinger, there's no wondering if the product you're selling will break in six months. There's no waiting for a part to arrive from overseas. If a customer needs something, we make it ourselves, in the U.S., and get your client's operations moving again with minimal productivity loss.
Distribute Stinger products and open yourself up to a larger clientele. Sell more to many with our wide range of production equipment. Supply Stinger products to your customers and you won't ever leave them wanting. We produce welding semi-automation equipment that will meet all of your clients' needs. Make Stinger your customers' one-stop shop for production equipment, and know that we will always be there to follow up should you need our help.